Mô tả
◆All gigabit design, 8x gigabit Ethernet RJ45 ports with AutoUplink™ , 1x console port, and 2x gigabit SFP slots.
◆8 PoE ports support power over Ethernet for PDs
◆Meet IEEE 802.3at PoE standard. Supports per port PoE configuration function
◆L2+ features provide better manageability, security, QoS, and performance.
◆Support L2+ Switching features including 802.1Q VLAN, Mirroring, Port isolation, IGMP Snooping, DHCP Snooping, LLDP, POE+ management, IP Source Guard, ARP inspection, ACLs etc.
◆Support spanning tree STP(802.1D) and RSTP(802.1W).
◆Jumbo frames support up to 9.6K kilobtyes.
◆Support enhanced management through WEB, CLI, TELNET,    SSH, SNMP.
◆Support cable diagnosis
◆G.8032, support <50ms industrial quick ring protection
◆Working Temperature: -20℃ to +55℃; Storage temperature: -40℃ to +85 ℃; Operating humidity: 5% to 95% , relative, non-condensing
All gigabit ports provide fast connection to servers or the backplane of the gigabit speed. The effective connectivity of the 8x 10/100/1000 Mbps ports and 2x optional fiber SFP slots, allows growing business networks, classrooms and workgroups to obtain benefits from the demand for superior performance and sustain network expansion. This high-performance switch features with non-blocking, wire-speed switching, and 20Gbps switching capacity. All RJ45 ports can auto adjust the highest connection speed for a normal working, Auto Uplink ™ technology can ensure proper network connection.
Installation Steps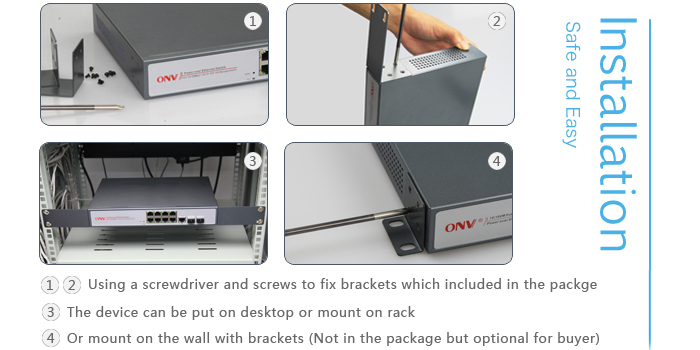 Flexible
Select to insert up to eight Ethernet or fast Ethernet devices, or hybrid access to eight IP-based IEEE802.3at PoE devices. Optimized installation and power management, such as the wireless access points (AP), Voice IP (VoIP) phones and IP-based cameras.
Power over Ethernet (IEEE802.3at) is used for new construction equipment to improve network efficiency and reduce the time and cost of installation. Easily deploy your wireless access point AP and IP cameras, eliminating the need to power outlets and supply uninterrupted power to the entire PoE device.
Convenient 
Indicator lights on the front panel make it easier to observe the status of the switch and solve the problems. Plug and play also brings many conveniences.
Finally, this durable switch is a 17 inch metal casing; the package box contains the matching rack kits.
Application Situations
◆ Million HD surveillance transmission and power supply
◆ Wireless AP distribution transmission and power supply
◆ VoIP transmission, intelligent home systems
◆ City intelligent traffic monitoring system (ITS), safe city, and wireless city
◆ Highway surveillance system, electronic road surveillance, snapshot system
◆ large industrial factory& enterprise security surveillance system, network multifunction system
◆ Remote multimedia teaching & campus surveillance, video conferencing systems
◆ Building intercom, wireless communications, video surveillance
Order Information
Product Model: ONV–POE33108PFM-at
Product Description: 10-port Gigabit Managed PoE Switch, with 8x 10/100/1000Base-T RJ45 Ethernet ports, 1x console port, and 2x gigabit SFP slots. 8 RJ45 ports support PoE power supply function , IEEE802.3at standard. Max. Power per PoE Port: 30W ; Switch's total power: 250W.
Ordering Note: Default PoE power type is end-span(12,36 line pair), ; SFP module is not included, need to order it separately
Package Contents